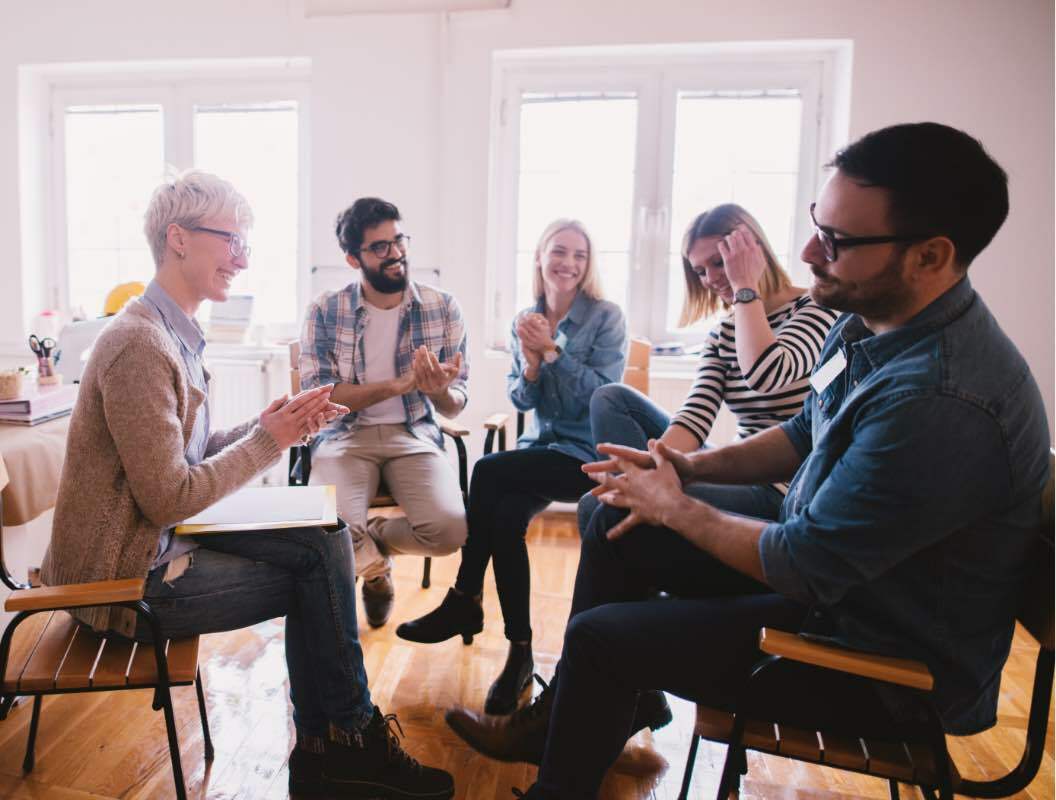 Building insight and creating self-change through interpersonal group relationships.
Facilitator: Bhavna Bharvani
This is a 9 week closed group of 90 minute sessions for people who would like to find more fulfillment in interpersonal relationships.
Do you find it difficult to connect with others?
Or find that you tend not to have the depth of relationships that you want?
The Social Lab provides a powerful opportunity to learn more about ourselves and how we relate to other people in a safe, supportive, and non-judgmental environment. The principle behind the Social Lab is that whenever we enter into any group, that group becomes a social microcosm for our other social dynamics. Using this principle, The Social Lab helps participants understand what roles they typically take on within the dynamic of a group, how they tend to form relationships with others. Often, participants find that by being in a group, they re-experience interpersonal dynamics that have been distressing to them in other relationships. The Social Lab helps participants examine these maladaptive relationship patterns, understand how they developed, and then create new ways of relating and being. 
How do we do this?
It is important first to establish trust amongst group members and so this will be the focus of the first few sessions. Group trust is built on every participant's commitment to strict confidentiality, consistent attendance, and authentic engagement in each session. Participants are asked at the beginning of each meeting to 1) mindfully pay attention to their thoughts, feelings, and reactions as they occur moment to moment as the group takes place, and 2) report on what they notice coming up for them. This helps us slow down and examine the automatic responses that fuel our interactions with others and that otherwise go unnoticed whilst we are interacting. During the rest of the group time, participants are responsible for bringing up things that are troubling them, and the discussion is based on whatever the participants would like to talk about, including the responses to others' contributions.  As this process is facilitated, participants will learn about the impact they have on each other, how people are perceiving them, and what influences their reactions to others. With this new awareness, members are invited to experiment with different ways of interacting with people and can learn to connect with others in a more authentic way.
The role of the therapist
The primary role of the therapist is to facilitate awareness and growth by helping participants notice their own automatic responses to others as well as the interpersonal themes and dynamics at play. The therapist does this by creating an atmosphere of trust and safety. Open communication is also encouraged towards the therapist by the group members.
What would make me a good candidate for this group?
This process group would be appropriate and therapeutic for an individual who would like to continue personal and interpersonal growth in a trusting group environment. Often, individuals are attracted to this type of group if they have experienced difficult interpersonal relationships and/or have unexpressed feelings that may interrupt the ability to develop and maintain healthy relationships. Individuals who join typically want to feel better about themselves and also find more fulfillment in their interpersonal relationships. This type of group would be very difficult and therefore not therapeutic for an individual experiencing psychosis, mania, or who is not interested in collaborating with others.
An initial 30 minute session with the facilitator will be necessary prior to the start date to assess whether the group is beneficial for you.
Bhavna Bharvani - Clinical Counsellor Relationship Counsellor
Specialising in LGBTQIA + Trauma & Self Actualisation
Bhavna is a US-trained Associate Professional Clinical Counsellor, registered with the California Board of Behavioural Sciences (APCC#3254). She is trained in San Francisco, where she worked with individuals, couples, teenagers, and LGBTQIA+ folks whose lives have been disrupted by chronic and complex trauma. Bhavna has worked across a range of community mental health settings, high schools, and ….
We recognise the courage it takes to seek professional support. If you have questions and would like to know more about working with us, please check out our frequently asked questions or fill out the contact form below. Once you have submitted a contact form, a member of our team will be in touch with next steps within 48 hours.
Use Exit D1 to leave Central MTR Station.
8th & 10th Floor VC House,
4-6 On Lan Street, Central, Hong Kong
Please note: Central Minds voicemail and email are only checked during normal office hours. In case of emergency please attend your nearest emergency room or call 999 for immediate assistance.
Get the latest news and articles on Central Minds to your inbox