Therapists / Psychologists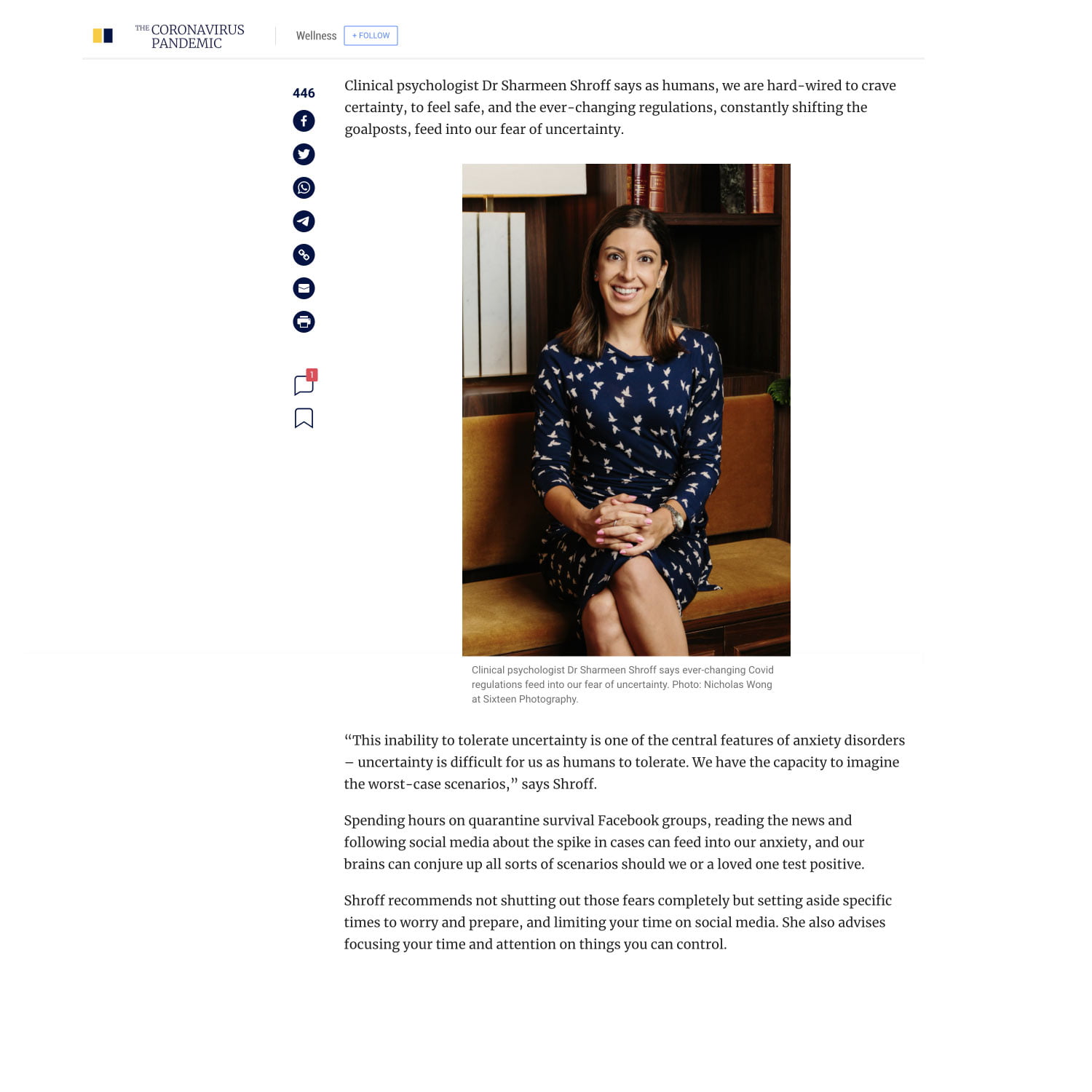 Psy.D. Clinical Psychology from California School of Professional Psychology, San Francisco
M.A. Clinical Psychology from California School of Professional Psychology, San Francisco
MSc. (Hons) Psychoanalytic Development Psychology from University College London in conjunction with the Anna Freud Center, United Kingdom
BSc. (Hons) Psychology from The University of Nottingham, United Kingdom
With over 14 years of experience, Dr Shroff has worked in community mental health centres,  private psychology clinics, medical clinics and both outpatient and inpatient units in hospitals in Hong Kong, the United Kingdom and the USA.  She is one of the few clinical psychologists in Hong Kong that have been intensively trained to practice psychotherapy from a psychodynamic depth perspective.
She works to enhance her client's self-awareness and identify repetitive themes and patterns in client's lives and relationships.  Dr Shroff believes that many of us develop patterns over the years, whether positive or negative, that become ingrained in us. In times of stress, worry, anger, or emotional turmoil, we repeat what is familiar and what feels safe – this can often lead to negative reactions and behaviour in our relationships and cause us to feel stuck.  Dr Shroff uses her expertise in psychodynamic therapy to help her clients' identify important pieces of the puzzle in order to gain insight and create opportunities to facilitate lasting change in their lives.
Dr Shroff's speciality areas are working with issues related to cultural identity, diversity, life transition issues and individuals who feel that some aspect of themselves or their relationships causes them distress, undermines the quality of their lives or leads them to feel as if they are not making progress in their personal lives and careers.  Dr Shroff also has expertise in working with Stress, Depression, Bipolar Disorder and Psychotic Disorders.
Dr Shroff  is passionate about conducting corporate training and workshops for multinational corporations to raise  awareness and reduce the stigma around issues related to employee mental health.  She has assisted numerous organisations to address these issues more effectively and create psychologically healthy workplaces in order to reduce burnout and absenteeism.
Dr Shroff has been fortunate enough to be raised in Hong Kong, and work in both the United Kingdom and the USA, providing her with the invaluable experience of working within a diverse environment and amongst a variety of cultures.  She understands first hand what it feels like to be an immigrant and the challenges that come with moving to a new country.  It is her own experience of living abroad and moving to various countries that has helped crystallise her desire to work with multi-cultural populations by utilising depth therapy.
Dr Shroff provides individual and group supervision to counsellors, psychologists and other mental health professionals. Additionally, Dr Shroff is a regular contributor to several publications in Hong Kong and acted as an associate profession at City University of Hong Kong where she supervised and taught Doctoral Level Psychology students.  She is also a service provider providing pro-bono therapy and Medico-Legal Assessments to refugee and asylum seekers.
Dr Shroff is a registered member of the Division of Clinical psychology (DCP) of the Hong Kong Psychological Society (HKPS) and the American Psychological Association.
DClinPsy Clinical Psychology from Royal Holloway, University of London, UK
PgDip Cognitive Behavioural Therapy (CBT) from Royal Holloway, University of London, UK
Level III EMDR from Richman EMDR Training, UK
BSc. (Hons) Applied Psychology from Cardiff University, UK
Dr Browne is a UK trained Chartered Clinical Psychologist, Accredited Cognitive Behavioural Psychotherapist and EMDR Therapist. She has worked in the field of Clinical Psychology for over seventeen years in a variety of contexts; including, community mental health services, medical/GP clinics, inpatient and outpatient hospital settings, military and occupational settings, and in independent private practice. Dr Browne specialises in treating adults with a wide range of mental health issues and psychological problems, from mild to more complex difficulties. She can help resolve issues related to depression, low self-esteem, anxiety/stress, trauma & abuse including PTSD, bereavement & grief, sleep problems, anger issues and adjustment difficulties (e.g. to expatriate life, parenthood, redundancy, medical issues).
Dr Browne has a specialist interest in treating difficulties arising from traumatic or very stressful life events, and pre/post-natal anxiety & depression. She also offers Cognitive Behavioural Coaching to facilitate learning, performance and development outside of the therapeutic arena.
Dr Browne is a compassionate, reflective and thoughtful practitioner. She adapts and integrates Cognitive Behavioural techniques (CBT) with other evidence-based interventions (such as Acceptance & Commitment Therapy (ACT); Compassion Focused Therapy (CFT), Eye Movement Desensitization & Reprocessing (EMDR), mindfulness and systemic approaches), depending on the unique needs and goals of her clients. Dr Browne advocates a holistic approach to mental health; working collaboratively with individuals to develop & nurture healthy interactions between the body & mind.
In addition to therapy, Dr Browne regularly provides clinical supervision, consultation and training to trainee & qualified mental health professionals, has lectured on undergraduate, post-graduate & doctoral psychology courses and can provide medico-legal assessment. She has published academic research in a range of highly respected peer-reviewed journals and is experienced in working as a psychologist in the media, having participated in commentary for TV & printed press.
Dr Browne is a chartered member of the British Psychological Society (BPS), an accredited member of the British Association for Behavioural and Cognitive Psychotherapies (BABCP), a member of the Division of Clinical Psychology of Hong Kong Psychological Society (HKPS) and registered with the UK's regulatory body for Clinical Psychology, the Health and Care Professions Council (HCPC).
Psy. D. Clinical Psychology, (USA/HK)
M.A. Clinical Psychology (USA/HK)
Masters of Theology in Pastoral Care and Counselling, (Canada)
Masters of Divinity, (Canada)
Bachelor of Sociology, (Canada)
Four Units of CPE – advanced standing (Canada)
Gottman Method Couples Therapy – Level 1 Certified
Affiliations
• American Psychological Association – member
• Canadian Psychological Society – member
• Hong Kong Association of Doctors in Clinical Psychology – member
• Fragile X Hong Kong – board member
Dr. Michele is originally from Canada and moved to Hong Kong over 20 years ago after a stint in Malta. As a long term expat, she is well versed in both issues concerning locals and challenges affecting expats. Michele works with private and corporate clients. Her experience also includes working with NGOs, academic institutions, hospitals, and churches throughout Hong Kong and Southeast Asia.
Dr. Michele works with those who are in transition, those seeking personal growth, or those confronted with challenging circumstances. Dr. Michele works with couples to prepare them for marriage, as well as with individuals or couples struggling in relationships. She is experienced in working with those affected by issues of stress, low self-esteem, addiction, chronic or critical illness, and grief. Dr. Michele's positive approach to therapy enables clients to build on existing strengths and develop strategies to live whole and fulfilled lives.
Individual and Couples Relationship Counsellor
MA.Counselling from Monash University, Australia
BA. Psychology from The University of British Columbia, Canada
Completed Gottman Level 3 – Practicum Training in Gottman Method Couples Therapy.
Lori is a sensitive and patient relationship counsellor who has worked with individuals and couples on a variety of issues including:
Couples who fight over the same issues repeatedly
Couples who have trust issues
Individuals who want to learn how to decrease stress, panics and anxiety
Individuals who are going through a separation or break-up
Individuals who want to improve their relationships
Working with clients on relationship issues has been the most rewarding part of her career. Lori is extremely passionate about her work in helping clients rebalance their lives through mental well-being, spirituality, healthy connections and exercise.
She understands that couples can sometimes fall into unhealthy communicative patterns that result in unresolved issues and constant arguments. With that come emotional distancing, stress and even relationship damage. Lori strives to help her clients learn how to listen to each other in constructive ways and develop healthy communication skills.
As a relationship counsellor, Lori also has the opportunity to work with individuals on different stages of their relationships with their partners. She works with clients who have issues ranging from the beginning of a relationship to the aftermath of a separation. Clients have overcome stress, frustration, anxiety, worry, hurt and pain.  Clients are now more in control of their own lives and have rediscovered their strengths.
Lori's sessions give her clients a chance to find themselves and learn about their partners through a safe, non-judgmental space and learn different coping methods for well-being and balance in life.
Lori is a registered member of the Australian Counselling Association and The Hong Kong Society of Counselling and Psychology.
DClinPsy. Clinical Psychology from Royal Holloway, University of London, UK
MSc Cognitive Neuroscience from University College London, UK
BSc. (Hons) Psychology and Cognitive Neuroscience from University of Nottingham, UK
Dr. Hannah Sugarman is a Clinical Psychologist from the UK. Dr. Sugarman completed her clinical training in the NHS in London, working with people across the lifespan presenting with a range of different difficulties. She has worked in the field of mental health for over ten years.
Therapeutic work: People often attend therapy when they feel stuck and find that they are not able to live their lives in the way that they want to. This may be because of mental health problems such as anxiety or depression, or due to low self-confidence or poor motivation. For some people, painful experiences from the past can give rise to difficult thoughts and feelings. These difficulties can lead people to use unhelpful coping strategies such as overworking, avoidance or substances to help them to manage.
Dr. Sugarman can work with you to help to make sense of any problems that you are experiencing and explore how they are getting in the way for you. She can then support you to learn tools and strategies that enable you to handle difficulties more effectively so that they don't get in the way of your life. Dr. Sugarman uses Cognitive Behavioural Therapy and Acceptance and Commitment Therapy as the primary models in her therapeutic work; however, she is trained in a number of approaches and will integrate concepts from different models to tailor the treatment to you.
Many of the reasons that bring people to therapy are not easy to talk about with their friends and family. As an objective professional, Dr. Sugarman aims to offer you a space where you can feel comfortable to speak openly and without feeling judged. This is of the utmost importance in creating an environment where change can occur.
Adult assessment: Dr. Sugarman developed a special interest in cognitive and neuropsychological assessments of adults during her clinical training, during which she regularly completed these assessments in a variety of settings. Dr. Sugarman is experienced in neuropsychological assessment with people experiencing conditions such as stroke, epilepsy, Parkinson's Disease and Multiple Sclerosis, as well as assessment following traumatic brain injury. Alongside their application in medical settings, these assessments can also be of use in identifying the strengths and weaknesses across an individual's cognitive profile to help to determine whether there are any inconsistencies or deficits that could indicate organic pathology (e.g. dementia) or a neurodevelopmental condition (e.g. ADHD). Dr. Sugarman is one of the few clinical psychologists in Hong Kong who is able to offer expertise in this area for English speaking clients.
Other work: Dr. Sugarman is passionate about reducing the stigma around mental health. She is a qualified Mental Health First Aid Instructor with Mind Hong Kong, and she delivers this training alongside Mental Health Literacy training. This aims to help people to better understand mental health and increase their skills to support people who are experiencing mental health problems. She also delivers this training in corporate settings on behalf of the City Mental Health Alliance. Dr. Sugarman is also involved in pro-bono assessment and medico-legal report writing to assist with non-refoulement claims for asylum seekers, in collaboration with The Justice Centre Hong Kong.
Dr. Sugarman is registered with the Health and Care Professionals Council in the UK.
Psy.D. Clinical Psychology from Alliant International University, Hong Kong
MA Clinical Psychology from Alliant International University, Hong Kong
BA Psychology from The University of San Francisco, USA
Member American Psychological Association
Chartered Member of the British Psychological Society
Registered Member of the Hong Kong Association of Doctors in Clinical Psychology
Dr. Kaili Chen is originally from Singapore and has lived in various countries such as Thailand, Malaysia, China, and the United States. She has worked in the field of psychology for six years in several non-profit organisations and community mental health centers providing therapy to individuals, conducting group therapy sessions, and psycho-educational seminars.
Dr. Chen utilises both cognitive behavioural as well as psychodynamic therapies depending on the client. She believes in working with and empowering individuals to develop new coping strategies that will improve and enhance their lives. Practice interests include mood and anxiety disorders, adjustment issues, grief and loss, and trauma. Dr. Chen works with adolescents and adults for individual therapy.
Psy.D. Clinical Psychology, California School of Professional Psychology
M.A. Clinical Psychology, California School of Professional Psychology
B.S.S. Psychology, University of Hong Kong
California Licensed Clinical Psychologist (Lic. # PSY 29694)
Member of the American Psychological Association
Registered Member of the Hong Kong Association of Doctors in Clinical Psychology
Dr. Natalie Loong is a California licensed clinical psychologist with years of experiences working in community mental health, outpatient, residential, and private practice settings in Hong Kong and the United States. As a bilingual psychologist, Dr. Loong provides services in both English and Cantonese and has extensive experiences working with adults, adolescents, and children from diverse cultural and socioeconomic backgrounds.
Trained in Psychodynamic and Existential-Humanistic traditions of psychotherapy, Dr. Loong specialises in providing psychotherapy that is in-depth and insight-oriented with the goal of creating lasting changes in clients' lives. Dr. Loong works closely with clients to explore and work through unconscious aspects of their experiences, recurring themes and patterns in their lives, and underlying functions of their difficulties. Through the experiential and intellectual learning that takes place in the process, clients develop deeper understanding and appreciation of themselves, discover new ways of being and relating and are empowered to liberate from old symptoms, behaviours, and patterns.
Dr. Loong is also experienced in providing play therapy – a developmentally appropriate psychotherapy approach for children that uses play as a medium for communication. The symbolic function of play allows children to comfortably and safely express troubling events and experiences. Utilising play, Dr. Loong attempts to experience, understand, and work on difficulties interactively with child clients, empowering them to consider new solutions to their problems, learn adaptive ways of coping, and change the way they think or feel in the process.
Over the years, Dr. Loong has worked with a broad spectrum of clinical and non-clinical issues across the lifespan including stress-related or adjustment difficulties, interpersonal relationship problems, struggles with meaning and purpose in life, difficulties with parenting, depression, anxiety, trauma, personality disorders, psychotic disorders, gambling disorder, school refusal, aggressive behaviours, oppositional and defiant behaviors, enuresis, separation anxiety, attention-deficit hyperactivity disorder (ADHD), selective mutism, and self-harm. Despite so, Dr. Loong sees each client as a unique individual beyond his/her problems and is committed to empowering and accompanying her clients through their own journey of suffering, discovery and growth.
In addition to her clinical work, Dr. Loong is an adjunct faculty at the California School of Professional Psychology – Hong Kong, Alliant International University. She currently chairs students on their doctoral dissertations and has taught courses on multicultural and social justice psychology, research methods and designs, as well as psychometrics and statistics in the past.
MA Clinical Counselling from California School of Professional Psychology, San Francisco
BA Psychology from Georgetown University, Washington DC
EFT Couples Therapy – Certification Track
Gottman Method Couples Therapy – Level 2 Certified
Bhavna is a US-trained Associate Professional Clinical Counsellor, registered with the California Board of Behavioural Sciences (APCC#3254). She is trained in San Francisco, where she worked with individuals, couples, teenagers, and LGBTQIA+ folks whose lives have been disrupted by chronic and complex trauma. Bhavna has worked across a range of community mental health settings, high schools, and residential substance use treatment centers.
Bhavna is passionate about collaborating with adolescents, adults, and couples of all ethnicities, sexual orientations, and gender expressions so that they can know themselves deeply and cultivate fulfilling, meaningful lives and relationships.
Couples: There is something undeniably powerful, and healing about being in a secure loving partnership. However, when our important relationships come under stress, they can be completely debilitating. Bhavna provides a safe space for couples to identify negative patterns of interaction, access and communicate their primary needs to each other, cultivate the intimacy they want in their relationships, and work through sexual issues. Bhavna is also polyamory and non-monogamy informed, and kink/BDSM aware. In addition, Bhavna also works with clients who wish to end relationships through an intentional breakup process.
Adults: Conscious and unconscious beliefs, assumptions, and relational patterns can hold people back from living the lives they envision. Bhavna is passionate about helping people move through "stuckness", manage depression and anxiety, overcome self-doubt, deal with change, learn coping skills for stress, heal shame, shift their inner critical voice and befriend themselves, and develop greater awareness of their feelings, needs, and desires.
Teens: Bhavna helps teens cope with the challenges of adolescence, including the pressures that come with a 24/7 online presence, anxiety around school/exams/friends, depression, feelings of inadequacy, and addictions. Bhavna also provides coaching to teens to unlock their potential, motivation, and self-confidence, and helps bring them in alignment with their goals.
Bhavna's style is warm, relational, and non-judgmental. She believes that trust and connection with the therapist are essential components of successful therapy. Her goal is to provide culturally-sensitive, empathetic, and strength-based psychotherapy through an integrative approach. She is primarily client-centered and combines techniques from acceptance and commitment therapy, mindfulness principles, attachment theory, narrative therapy, cognitive-behavioural therapy and dialectical behavioural therapy to suit the unique needs of each individual client. Bhavna consults with Clinical Supervisor Dr. Erica Liu Wollin (PSY 18103) on her cases.
In addition to her therapeutic work, Bhavna works with Mind HK to reduce the stigma around mental health issues by developing and delivering training on Mental Health First Aid in workplaces. Bhavna also volunteers on The Zubin Foundation's crisis and support hotline, Call Mira. Prior to becoming a therapist, Bhavna worked in investment banking, television journalism, and market research. She has substantial experience relating to people from diverse backgrounds, having worked in Mumbai, New York, London, and San Francisco.
Master of Counselling from Monash University, Australia
MSc. Anthropology and Ecology of Development, from University College London, UK
BSc. Psychology, from Stockholm University, Sweden
Saville and Holdsworth Ltd.
Qualified to analyse and interpret Occupational Personality Questionnaires and Ability Tests (Level 1 and Level 2), Surrey, UK.
Malin is passionate about improving clients' psychological wellbeing in a non-judgmental and confidential setting. She has experience from working in pressurised high performing environments and believes that, through regaining balance in your mind, you can become more confident, content and empowered in your life.
Malin uses a Person Centred Counselling approach, tailormade to the client's issues at hand. She aims to understand the client's experience from their perspective to enable reconnection with their inner values for the individual to progress. She draws upon evidence-based methods such as Cognitive Behaviour Therapy (CBT), Acceptance and Commitment Therapy (ACT), Mindfulness and Motivational Interviewing (MI) techniques. These interventions can provide insight, tools and strategies to improve an individual's wellbeing.
Malin has experience working with multicultural clients on varied issues such as anger management, adjustment issues, grief and bereavement. She specialises in stress and anxiety management, increasing low self-esteem, developing resilience, interpersonal skills training, depression and support during difficult times.
Malin also works in partnership with corporations to support employees' psychological wellbeing. Her aim is to empower and engage staff to prevent ill health caused by negative stress, as well as support employees going through organisational changes or other personally challenging times. The potential benefits are reduced absenteeism, presenteeism and burnout. The collaboration can expedite career development and personal growth, as well as improve engagement and retention of valuable staff.
In addition to Malin's clinical work as a therapist, she provides workshops supporting female business leaders at The Women Foundation. She is also a columnist in a local community magazine and a speaker at various Chamber of Commerce events with the aim of promoting improved psychological wellbeing and reducing stigma around mental ill health.
Malin's professional background is within Human Resources, with various multinational corporations as well as niche HR consultancies. Malin is a bilingual Counsellor (Swedish and English) with extensive international experience, having worked and lived in Sweden, Australia, England and Hong Kong.
She is a graduate member of the Hong Kong Society of Counseling and Psychology and a full member of the Hong Kong Professional Counselling Association.
MSc in Psychoanalytic & Developmental Psychology (The Anna Freud Centre in conjunction with University College of London, London, UK)
MA in Play Therapy (Roehampton University, UK)
BA in Psychology (York University, Canada)
Cogmed Working Memory Coach (UK)
FRIENDS™ for Life facilitator (UK)
Parents Forever Facilitator (University of Minnesota, U.S.A)
Lora is a Registered Psychologist, practicing a combined Directive Play Therapy and Psychodynamic Psychotherapy approach.  This encourages clients to draw on their own ability and inner resource to develop the skills to change destructive patterns of behaviour.
Lora's approach stresses the importance of the unconscious, past experience and family dynamic in shaping current behaviour thus undesirable behaviours is learnt and can be modified.
Lora has over eight year's clinical training and experience with children and adolescents in a variety of settings, e.g. private, non-profit, social work and school.
Lora works with children and adolescents between the ages of 4 to 19, who are experiencing difficulties in parental divorce, bereavement, self-harm, suicidal idealization, selective mutism, social anxiety, ADD, bullying (being the bully or the victim), Asperger syndrome and social communication as well as emotional and behavioural functioning. Lora's aim for each child or adolescent, is to work towards improving their sense of well-being and thus provide a more stable platform to support their future growth.
To optimize this affect, Lora works with each child according to their own unique character, conditions and circumstances.  Lora practices a child-first approach putting the needs of the child or adolescent at the center of therapeutic treatments whether it is conducted with the child, and/or parents.  Lora is a Registered Psychologist with the Hong Kong Psychological Society and a member of the British Psychological Society.
Dr. Sheri McCurdy-Lightbound
Psy.D. Clinical Psychology from California School of Professional Psychology, Hong Kong/U.S.
M.A. Clinical Psychology from California School of Professional Psychology, Hong Kong/U.S.
M.Sc. Engineering from Georgia Institute of Technology, United States
B.A.E. (High Hons) from Georgia Institute of Technology, United States
Chartered Psychologist with the British Psychological Society
Registered Member of the New Zealand Psychologists Board
Registered Member of the Hong Kong Association of Doctors in Clinical Psychology
Member American Psychological Association
Dr. Sheri McCurdy-Lightbound is originally from the U.S. and has lived in Spain, the U.K., Sri Lanka, and Hong Kong. Her goal is to help individuals struggling to find fulfillment at work or school and in their personal lives. She specialises in treating adults with anxiety and panic disorders as well as those with relationship and adjustment issues (e.g., moving, divorce, job change).
Dr. McCurdy-Lightbound utilises a combination of cognitive behavioural therapy (CBT) and mindfulness techniques, customised by client, to bring about positive change in ways of thinking and feeling. She may also work from a psychodynamic perspective as needed to explore and shift self-defeating patterns of behaviour as well as Bowenian systems therapy to help differentiate thoughts from feelings. For those with sleep difficulties, Dr. McCurdy-Lightbound can provide sleep hygiene and insomnia therapy.
As a leadership development specialist, Dr. McCurdy-Lightbound can assist individuals in removing roadblocks to success and introducing new ways of thinking to improve creativity and strategic planning. Formerly a results-oriented business manager and management consultant for the Fortune 500 and new industry leaders, she combines business acumen with a deep understanding of people.
Dr. McCurdy-Lightbound conducts only online therapy via real-time online video (e.g., via Zoom or Skype).
PgDip Cognitive Behavioural Therapy (CBT) from Royal Holloway, University of London, UK
Masters of Research in Psychological Methods from University of Sussex, UK
PgCert Evidence-Based Psychological Treatment from University of Reading, UK
BSc (Hons) Psychology from University of Hertfordshire, UK
Teresa is a Cognitive Behavioural Psychotherapist who has over 8 years of experience working in the field of clinical mental health. She has a background in Psychology at both an undergraduate and master's level and completed her training in the UK, where she specialised in the field of Cognitive Behavioural Therapy.
Prior to moving to Hong Kong at the end of 2018, Teresa worked within several leading psychological therapy services within the National Health Service (NHS) across London, Surrey and Hampshire in the UK. Through her work as a therapist working in primary care, Teresa has gained extensive experience in working with individuals affected by a wide range of depression and anxiety disorders, including OCD, academic and work stress, panic attacks, low self-esteem, social anxiety, phobias and PTSD.
Teresa has developed a special interest in working with anxiety disorders and uses an integrated approach to adapt her way of working with each client, tailoring therapy to the specific needs of each individual. She believes that every client who comes through the door is unique and equally important in their own right, no matter their background, and therefore believes that treatment should be expertly tailored and individualised, as no problem is too great or too small.
Her collaborative style aims to encourage individuals to self-reflect and come up with alternative angles to problems, as well as to equip them with the skills and confidence to be able to self-manage difficulties that may arise in the future. Focus is therefore placed on both the attainment of practical coping skills, together with addressing the root causes of a problem, if deemed necessary.
Teresa has a calm and welcoming approach and endeavours to put her clients at ease, whilst offering a confidential and non-judgemental space to explore what it is that has brought them to therapy.
In addition to offering one-on-one therapy, Teresa also has experience as a group facilitator conducting psycho-educational groups and courses for individuals wanting an introduction in Cognitive Behavioural Therapy.
Being originally from the UK, Teresa is a native English speaker, but can also communicate in Cantonese.
MSc. Transactional Analysis Psychotherapy, Middlesex University, UK
 PgDip British Sign Language/English Interpreting, University of Central Lancashire, UK
 B.A.(Hons) Deaf Studies and Psychology, University of Wolverhampton, UK
 Diploma in Relationship Counselling, Relate Institute, UK
      

The Hong Kong Professional Counselling Association

       

Psychotherapy Society of Hong Kong

       

UK Council for Psychotherapy

       

British Association for Counselling and Psychotherapy

       

Certified Transactional Analyst, UK Association for Transactional Analysis

       

The International Association of Relational Transactional Analysis

       

British Association of Mental Health and Deafness
Jill is a UK trained Psychotherapist who has run her own successful private practice in London and worked part-time as a Psychodynamic Psychotherapist within an NHS service based in South West London.  Jill works with individuals and couples a well as facilitating process groups for people struggling with grief and loss.
Jill is an empathic, warm, open and compassionate Psychotherapist.  She works with clients and couples to explore the underlying aspects of themselves that they may not be aware of, to understand how they see themselves, and how they deal with others and see the world.  She helps clients to understand why they keep behaving or thinking in a particular way, or why certain things keep happening to them (for example repetitive patterns in relationships). Jill works with clients to understand the influence their past experiences in life can have upon them in the present day as she believes that when a client has awareness of this, they can move towards changing these patterns of behaviour.
Couples: Jill trained and worked with the Relate Institute (UK) as a couples/relationship therapist.  
Some of her areas of expertise when working with couples are:
Communication problems

How to resolve arguments and conflict
Separation
Split agendas – where one person wants to leave the relationship and the other person wants to stay
Affairs
Pre-marriage therapy
Retirement
Finding the spontaneity and intimacy in the relationship
Strengthening the relationship
Jill works with couples to identify issues or problems within the relationship and to explore their feelings, values and find ways to communicate this to one another in a way that acknowledges the other.
Groups: Jill developed and independently ran process groups for individuals who were struggling with bereavement and grief in the NHS, UK. Jill recognizes how isolating grief can be and the impact this has upon people and their relationships with others.
Individuals: Jill has experience working with clients with a range of presenting issues.  Her areas of expertise include: traumatic events, both cumulative and single events, anxiety, depression, low self-esteem, stress, lack of confidence, struggling with decision making, grief, relationship issues, transitions.
Jill is a native English speaker and can also work with clients who are Deaf and use British Sign Language having previously worked as an Interpreter. 
Psychology & Counselling Services
8th & 10th Floor VC House, 4-6 On Lan Street, Central, Hong Kong
Please note: Central Minds voicemail and email are only checked during normal office hours. In case of emergency please attend your nearest emergency room or call 999 for immediate assistance.