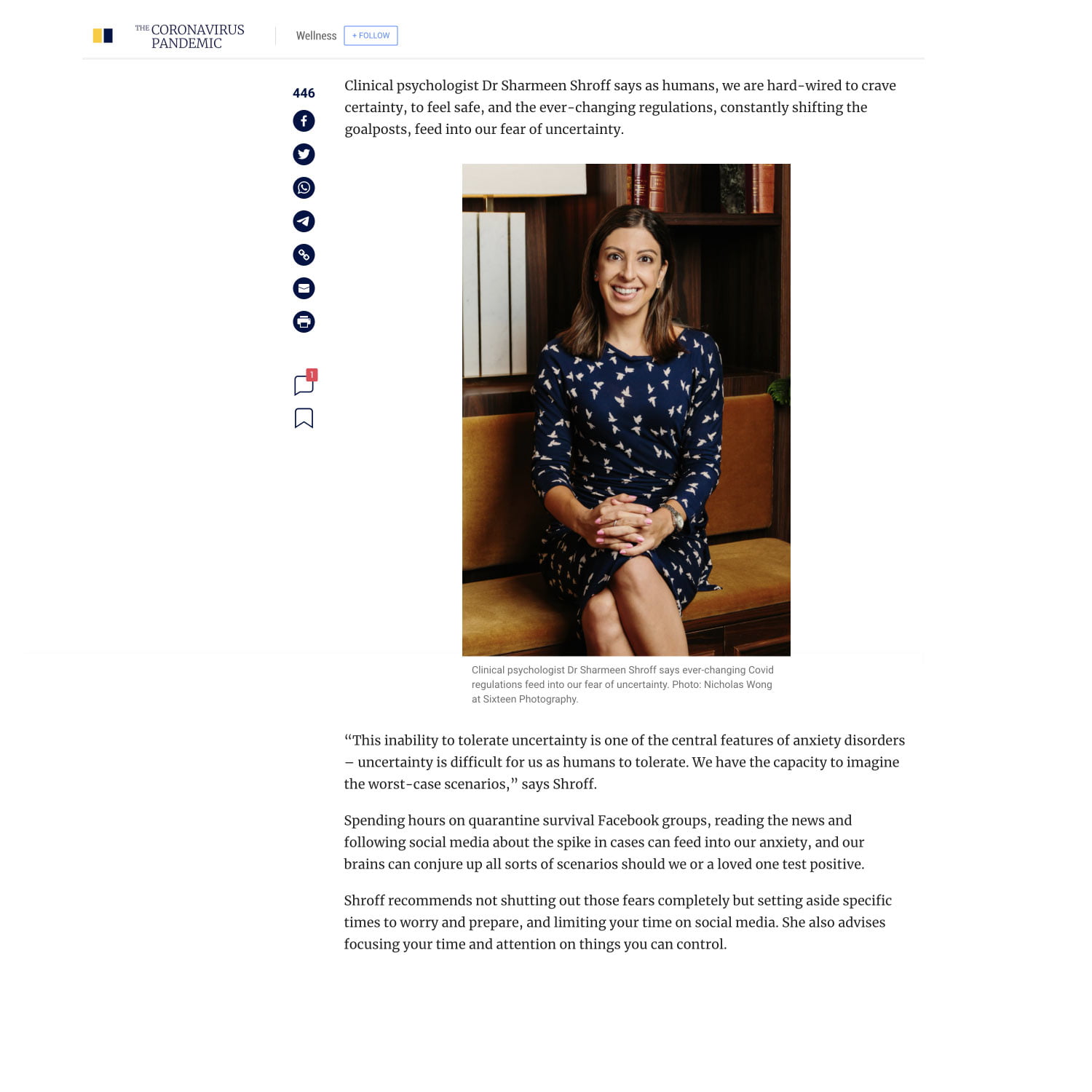 Dr. Sharmeen Shroff
Psy.D. Clinical Psychology from California School of Professional Psychology, San Francisco
M.A. Clinical Psychology from California School of Professional Psychology, San Francisco
MSc. (Hons) Psychoanalytic Development Psychology from University College London in conjunction with the Anna Freud Center, United Kingdom
BSc. (Hons) Psychology from The University of Nottingham, United Kingdom
Dr Shroff has worked in the field of psychology for over 12 years in school settings, community mental health centers, medical clinics and hospitals (inpatient and outpatient units). She is one of the few clinical psychologists in Hong Kong that have been intensively trained to practice psychotherapy from a psychodynamic depth perspective.
Dr. Shroff uses her training in classical psychoanalysis and combines it with a more practical hands on approach to give clients the best of both worlds.  As a clinical psychologist, Dr. Shroff utilizes a combination of directive and non-directive therapy techniques, giving clients the skills they need to improve their lifestyle while allowing them space for their own growth and development.  Dr. Shroff works with individual adolescents, adults and couples in therapy.
Dr. Shroff is a professional member of the Hong Kong Psychological Society, the American Psychological Association and the Northern California Society of Psychoanalytic Psychology. Dr. Shroff is also an associate professor at City University, Hong Kong where she supervises and teaches doctoral level Clinical Psychology students.  She is also a service advisor providing pro-bono therapy to refugee and asylum seekers at Christian Action, Hong Kong.
For more information about Sharmeen, please visit www.mindful-choice.com
Dr. Tess Browne
PsyD. Clinical Psychology from Royal Holloway, University of London, UK
PgDip Cognitive Behavioural Therapy (CBT) from Royal Holloway, University of London, UK
BSc. (Hons) Applied Psychology from Cardiff University, UK
Certificate of Completion of Eye Movement Desensitization & Reprocessing (EMDR) Level 3 Training from Richman EMDR Training, UK
Dr Browne is a UK trained Chartered Clinical Psychologist, Accredited Cognitive Behavioural Psychotherapist and EMDR Practitioner. She has worked in the field of psychology for over fifteen years in community mental health services, medical clinics, inpatient and outpatient hospital settings and with military personnel. Dr Browne specialises in treating older adolescents, adults and couples with a wide range of mental health issues and psychological problems, from mild to more complex difficulties. She has particular expertise in treating difficulties arising from traumatic or very stressful life events. Dr Browne also offers Cognitive Behavioural Coaching to facilitate learning, performance and development outside of the therapeutic arena, and medico-legal assessment.
Dr Browne is a compassionate, reflective and thoughtful practitioner. She adapts and integrates cognitive behavioural techniques with other evidence based interventions (such as EMDR, compassion focused, mindfulness and systemic approaches), depending on the unique needs and goals of her clients.
Dr Browne is a chartered member of the British Psychological Society, an accredited member of the British Association for Behavioural and Cognitive Psychotherapies and registered with the UK Health and Care Professions Council.
For more information about Tess, please visit www.talkspacepsychology.com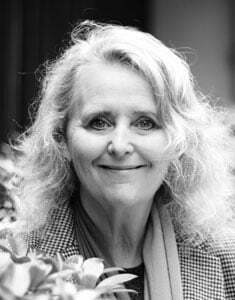 Dr. Michele A. Bland
Psy. D. Clinical Psychology, (USA/HK)
M.A. Clinical Psychology (USA/HK)
Masters of Theology in Pastoral Care and Counseling, (Canada)
Masters of Divinity, (Canada)
Bachelor of Sociology, (Canada)
Four Units of CPE – advanced standing (Canada)
Gottman Method Couples Therapy – Level 1 Certified
Affiliations
• American Psychological Association – member
• Canadian Psychological Society – member
• Hong Kong Association of Doctors in Clinical Psychology – member
• Fragile X Hong Kong – board member
Dr. Michele is originally from Canada and moved to Hong Kong over 20 years ago after a stint in Malta. As a long term expat, she is well versed in both issues concerning locals and challenges affecting expats. Michele works with private and corporate clients. Her experience also includes working with NGOs, academic institutions, hospitals, and churches throughout Hong Kong and Southeast Asia.
Dr. Michele works with those who are in transition, those seeking personal growth, or those confronted with challenging circumstances. Dr. Michele works with couples to prepare them for marriage, as well as with individuals or couples struggling in relationships. She is experienced in working with those affected by issues of stress, low self-esteem, addiction, chronic or critical illness, and grief. Dr. Michele's positive approach to therapy enables clients to build on existing strengths and develop strategies to live whole and fulfilled lives.
Lori Chau
Individual and Couples Relationship Counsellor
MA.Counselling from Monash University, Australia
BA. Psychology from The University of British Columbia, Canada
Completed Gottman Level 3 – Practicum Training in Gottman Method Couples Therapy.
Lori is a sensitive and patient relationship counsellor who has worked with individuals and couples on a variety of issues including:
Couples who fight over the same issues repeatedly
Couples who have trust issues
Individuals who want to learn how to decrease stress, panics and anxiety
Individuals who are going through a separation or break-up
Individuals who want to improve their relationships
Working with clients on relationship issues has been the most rewarding part of her career. Lori is extremely passionate about her work in helping clients rebalance their lives through mental well-being, spirituality, healthy connections and exercise.
She understands that couples can sometimes fall into unhealthy communicative patterns that result in unresolved issues and constant arguments. With that come emotional distancing, stress and even relationship damage. Lori strives to help her clients learn how to listen to each other in constructive ways and develop healthy communication skills.
As a relationship counsellor, Lori also has the opportunity to work with individuals on different stages of their relationships with their partners. She works with clients who have issues ranging from the beginning of a relationship to the aftermath of a separation. Clients have overcome stress, frustration, anxiety, worry, hurt and pain.  Clients are now more in control of their own lives and have rediscovered their strengths.
Lori's sessions give her clients a chance to find themselves and learn about their partners through a safe, non-judgmental space and learn different coping methods for well-being and balance in life.
Lori is a registered member of the Australian Counselling Association and The Hong Kong Society of Counselling and Psychology.
For more information about Lori, please visit fourpillarscounselling.com
Dr. Hannah Sugarman
DClinPsy. Clinical Psychology from Royal Holloway, University of London, UK
MSc Cognitive Neuroscience from University College London, UK
BSc. (Hons) Psychology and Cognitive Neuroscience from University of Nottingham, UK
Dr Sugarman is a UK trained Chartered Clinical Psychologist.
Dr Sugarman has worked in the field of psychology for eight years across a range of different settings and with clients across the lifespan. She has experience working in inpatient, outpatient and community mental and physical health settings. She offers treatment for adults experiencing a wide range of mental health symptoms, ranging from mild, acute difficulties to more longstanding complex problems. Dr Sugarman has a special interest in working with clients with short- and long-term physical health conditions, including medically unexplained symptoms.
Dr Sugarman is a caring and empathic practitioner who is eager to ensure that therapy fits the needs of the individual. She integrates techniques from various approaches including cognitive behavioural therapy, acceptance and commitment therapy, mindfulness and motivational interviewing to tailor the treatment to the client's needs and reduce psychological distress.
Dr Sugarman has training and experience in neuropsychology, and can provide cognitive assessments for children and adults. She can also offer teaching, training and workshops for a variety of audiences.
Dr Sugarman is a chartered member of the British Psychological Society, Division of Clinical Psychology (UK) and registered with the UK Health and Care Professions Council.
For more information about Hannah, please visit www.reflect-well.com
Dr. Kaili Chen
PsyD Clinical Psychology from Alliant International University, Hong Kong
MA Clinical Psychology from Alliant International University, Hong Kong
BA Psychology from The University of San Francisco, USA
Member American Psychological Association
Chartered Member of the British Psychological Society
Registered Member of the Hong Kong Association of Doctors in Clinical Psychology
Dr. Kaili Chen is originally from Singapore and has lived in various countries such as Thailand, Malaysia, China, and the United States. She has worked in the field of psychology for six years in several non-profit organizations and community mental health centers providing therapy to individuals, conducting group therapy sessions, and psycho-educational seminars.
Dr. Chen utilizes both cognitive behavioral as well as psychodynamic therapies depending on the client. She believes in working with and empowering individuals to develop new coping strategies that will improve and enhance their lives. Practice interests include mood and anxiety disorders, adjustment issues, grief and loss, and trauma. Dr. Chen works with adolescents and adults for individual therapy.
For more information about Kaili, please visit http://www.kailichen.com/dr-kaili-chen/
Marina Kirollos
Counselling Psychologist
BA (Hons) Psychology from the Western Sydney University, Australia
Accredited Counselling Psychology Registration Programme from the Australian Health Practitioner Regulation Agency (AHPRA)
Registered Counselling Psychologist with the Health and Care Professions Council (UK)
Associate Member of the British Psychological Society (UK)
Marina is a Chartered Counselling Psychologist. She has eight years of experience in providing tailored counselling for adults and adolescents in various settings including clinical, private, higher education and community.
Marina is originally from Sydney, Australia where she completed her undergraduate degree and specialist training. She then spent several years in London expanding her experience in the delivery of mental health services for adults and adolesecents with mild and complex presentations within private practice and higher education settings before relocating to Hong Kong in 2017.
Marina's main area of training is in Cognitive Behavioural Therapy (CBT) and strongly believes in the importance of drawing on a range of other evidence-based therapies such as, Compassion-focused Therapy, Mindfulness-based Cognitive Therapy, Acceptance and Commitment Therapy and Solution-focused Therapy to best tailor to the needs for each individual.
Marina is highly empathetic and passionate about providing the best possible care for individuals who may be experiencing difficulties / struggling with their overall well-being in a safe and confidential space without judgement.
Having worked with expats and international students within the private and higher education settings in London and Sydney, she has a strong understanding on cultural differences, adjustment difficulties and pressure in high stress working environments. Marina has a compassionate approach in therapy and believes in building a strong therapeutic alliance in order to achieve the best outcomes.
Lora Lee
MSc in Psychoanalytic & Developmental Psychology (The Anna Freud Centre in conjunction with University College of London, London, UK)
MA in Play Therapy (Roehampton University, UK)
BA in Psychology (York University, Canada)
Cogmed Working Memory Coach (UK)
FRIENDS™ for Life facilitator (UK)
Parents Forever Facilitator (University of Minnesota, U.S.A)
Lora is a Registered Psychologist, practicing a combined Cognitive Therapy and Psychodynamic Psychotherapy approach.  This encourages clients to draw on their own ability and inner resource to develop the skills to change destructive patterns of behaviour.
Lora's approach stresses the importance of the unconscious, past experience and family dynamic in shaping current behaviour thus undesirable behaviours is learnt and can be modified.
Lora has over eight year's clinical training and experience with children and adolescents in a variety of settings, e.g. private, non-profit, social work and school.
Lora works with children and adolescents between the ages of 4 to 16, who are experiencing difficulties in parental divorce, bereavement, self-harm, suicidal idealization, selective mutism, social anxiety, ADD, bullying (being the bully or the victim), Asperger syndrome and social communication as well as emotional and behavioural functioning. Lora's aim for each child or adolescent,is to work towards improving their sense of well-being and thus provide a more stable platform to support their future growth.
To optimize this affect, Lora works with each child according to their own unique character, conditions and circumstances.  Lora practices a child-first approach putting the needs of the child or adolescent at the centre of therapeutic treatments.  Lora is a Registered Psychologist with the Hong Kong Psychological Society and a member of the British Psychological Society.
For more information about Lora, please visit www.loralee.info
Bhavna Bharvani
MA Clinical Counseling from California School of Professional Psychology, San Francisco
BA Psychology from Georgetown University, Washington DC
EFT Couples Therapy – Externship Completed
Gottman Method Couples Therapy – Level 2 Certified
Bhavna is a US-trained Clinical Counsellor, registered with the California Board of Behavioural Sciences. She has provided individual, couples, and group therapy in community mental health clinics, high schools, and residential substance use treatment centers.
Bhavna is passionate about helping adolescents, adults, and couples of all ethnicities, sexual orientations, and gender expressions achieve a sense of well-being so they can have more energy for creativity, fulfilling relationships, play, and work. Bhavna's areas of expertise consist of working with the LGBTQ population, individual adolescents, adults and couples.
Adolescents: Nurturing their confidence and empowering them to develop a strong sense of self, Bhavna believes that having the right holding environment at a young age can unlock a youth's potential and sense of self-efficacy.
Adults: Conscious and unconscious beliefs, assumptions, and relational patterns can hold people back from living the lives they envision. Bhavna is passionate about helping people move through "stuckness", overcome self-doubt, deal with change, learn coping skills for stress, heal shame, shift their inner critical voice, and develop greater awareness of their feelings, needs, and desires.
Couples: There is something powerful, and healing about being in a loving relationship. However, when these relationships come under stress, they can be completely debilitating. Bhavna provides a safe space for couples to identify negative patterns of interaction, access and communicate their primary needs to each other, deepen emotional intimacy, and work through sexual issues.
Bhavna integrates techniques from narrative therapy, cognitive-behavioural therapy, and mindfulness to suit the unique needs of each individual client.
Having worked in Mumbai, New York, London, San Francisco, and Hong Kong, she has substantial experience relating to people from diverse backgrounds.
Marian Wong
MPsych (Clinical) (AU) Univserity of Melbourne in collaboration with National University of Singapore.
MSc Mental Health Studies (UK) Institute of Psychiatry, King's College London.
BSc(Hons) Psychology (UK) University of York
Australian Registered Psychologist (Clinical)
Member of the Hong Kong Psychological Society
Marian Wong is an Australian registered clinical psychologist. She has assessment and treatment experiences with children, adolescents, adults and older adults presenting with a range of mental health and emotional issues.
She strongly believes that psychological health is intimately linked to physical health and adopts a holistic approach in her treatment. She utilizes a range of evidence-based therapy approaches in her sessions such as Cognitive Behavioral Therapy (CBT), Acceptance and Commitment Therapy (ACT), Dialectical Behavioral Therapy (DBT), and Mindfulness-based therapy.
She has trained with Dr Tamara Russell in the delivery of Mindfulness-Based Cognitive Therapy (MBCT) and facilitated MBCT programs for individuals with Bipolar Disorder. She has also worked extensively with psychosis patients under the 'Jockey Club Early Psychosis' project.
Coming from a multicultural background and having worked in Hong Kong, the United Kingdom, and Australia as well as Singapore, Marian has substantial experiences working with diverse population groups.
Marian can offer consultation in English, Chinese, and Mandarin.
Dr. Sheri McCurdy-Lightbound
Psy.D. Clinical Psychology (US/HK)
M.A. Clinical Psychology (US/HK)
M.Sc Engineering (US)
B.A.E. (US, High Hons.)
Member American Psychological Association
Chartered Member of the British Psychological Society
Dr. Sheri McCurdy-Lightbound is originally from the U.S. and has lived in Spain, the U.K., and Sri Lanka before moving to Hong Kong in 2006. She specializes in cognitive behavioral and mindfulness-based therapies and also provides psychodynamic therapy as needed.
Prior to obtaining her qualifications in psychology, Dr. McCurdy-Lightbound worked as a management consultant and results-oriented business manager for the Fortune 500 and new industry leaders. She was also a volunteer for Room to Read, creating training programs for staff in six countries on subjects such as time management and conflict resolution.
Her goal is to help individuals struggling to find fulfillment at work or school and in their personal lives. Practice interests include mood and anxiety disorders as well as relationship issues.
Dr McCurdy-Lightbound conducts therapy via Skype therapy only.
Wendy Lam
BScPT (Hons), Dip. Acu, IMTC (USA)
Integrative Manual Therapist
Craniosacral Therapist
Physiotherapist
Wendy is a Holistic Physiotherapist with extensive training in both Hong Kong and the United States. She integrates Physiotherapy, Craniosacral Therapy, Integrative Manual Therapy, Acupuncture and other gentle and effective healing modalities to facilitate optimum recovery and healing in infants, children and adult patients.
She has been practicing with multidisciplinary clinics for over 13 years, and has helped a lot of patients over the years with acute and chronic pains, injuries, bone dysfunctions, pre and postnatal concerns, fatigue, digestive problems, as well as stress and emotional issues through integrated therapies.
She also has extensive experience in helping infants and children with conditions ranging from developmental and learning disorders, such as gross and fine motor developmental delays, posture and growth issues, irregular head shape, ADHD/ADD, Autism spectrum disorder, sleeping problems, immune deficiencies, colic, reflux amongst others.
In order to optimize the innate healing potential that lies within each one of us, she works hand-in-hand with her patients to develop individualized manual treatment plans, lifestyle, nutrition as well as home programs to correct the root cause(s) of dysfunctions and support the body and mind
For more details about her treatment approaches, please visit www.holisticphysio.com.hk